Chiropractic Care For Sports Injuries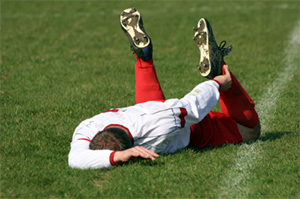 Chiropractic care is very beneficial in the treatment of sports injuries. Whether you are an amateur athlete or a professional athlete, chiropractic care can help you perform at your athletic peak by improving your range of motion, flexibility, balance, coordination, and agility. Chiropractic is well suited for any type of sports injury.
Chiropractic Treatments Work For:
Football Injuries
Baseball Injuries
Basketball Injuries
Softball Injuries
Tennis Injuries
Soccer Injuries
Running & Jogging Injuries
Snowboarding/Skiing Injuries
Snowmobile Injuries
Dirt Bike Injuries
ATV Injuries
Golf Injuries
Bicycling Injuries
Chiropractic treats these injuries through regular adjustments to bring the body back into proper alignment and allowing the body to function as it was intended to function. Chiropractors can also help to treat soft tissue damage that results from these injuries. These treatments combined with exercises and stretches recommended by a chiropractor with facilitate healing and bring an athlete back to competition much quicker than traditional medicine alone. Because chiropractic care is all about keeping the body properly aligned and functioning at its peak it is easy to see why chiropractic is such a great fit for sports and sports injuries. If you are interested in chiropractic care feel free to give us a call at 651-730-7302 and set up an appointment today.