Massage Therapy Treatment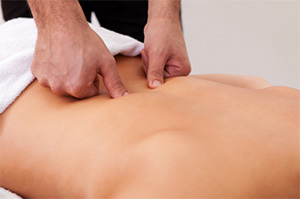 Massage therapy, or therapeutic massage, when coupled with chiropractic can be extremely beneficial. Massage therapy is a way to help heal soft tissue injuries and relieve pain. It can also help to relieve stress, lower blood pressure, stretch muscles and enhance immunity and skin condition. The best type of massage is different for everybody and your massage therapist can discuss which type of massage is best for you.
Therapeutic Massage Techniques:
Swedish Massages
Deep Tissue Massages
Trigger Point Therapy
Prenatal Massages
Hot Stone Massages
Aroma Therapy
Sports Massages
Chiropractic and massage therapy work well in tandem. Chiropractic care works to keep the neck and spine aligned to keep the body functioning as it is intended to function. Massage therapy works on the soft tissue in the body, relieving stress and pain as well as helping to lower blood pressure and keep muscles stretched and in good condition. If you are interested in learning more about massage therapy and chiropractic, or are interested in setting up an appointment to receive care, feel free to give us a call at 651-730-7302 today.